Nature Club:
The Merritt Academy Nature Club is offered to elementary students.  Nature Club meets after school and is a great enrichment activity for those who enjoy learning about different kinds of animals, plants, and different aspects of nature.  In the past, we have studied different kinds of deer, bats, polar animals, and how plants grow.  If you love learning about nature through a variety of hands-on activities, Merritt Academy Nature Club is the after school activity for you!
Robotics: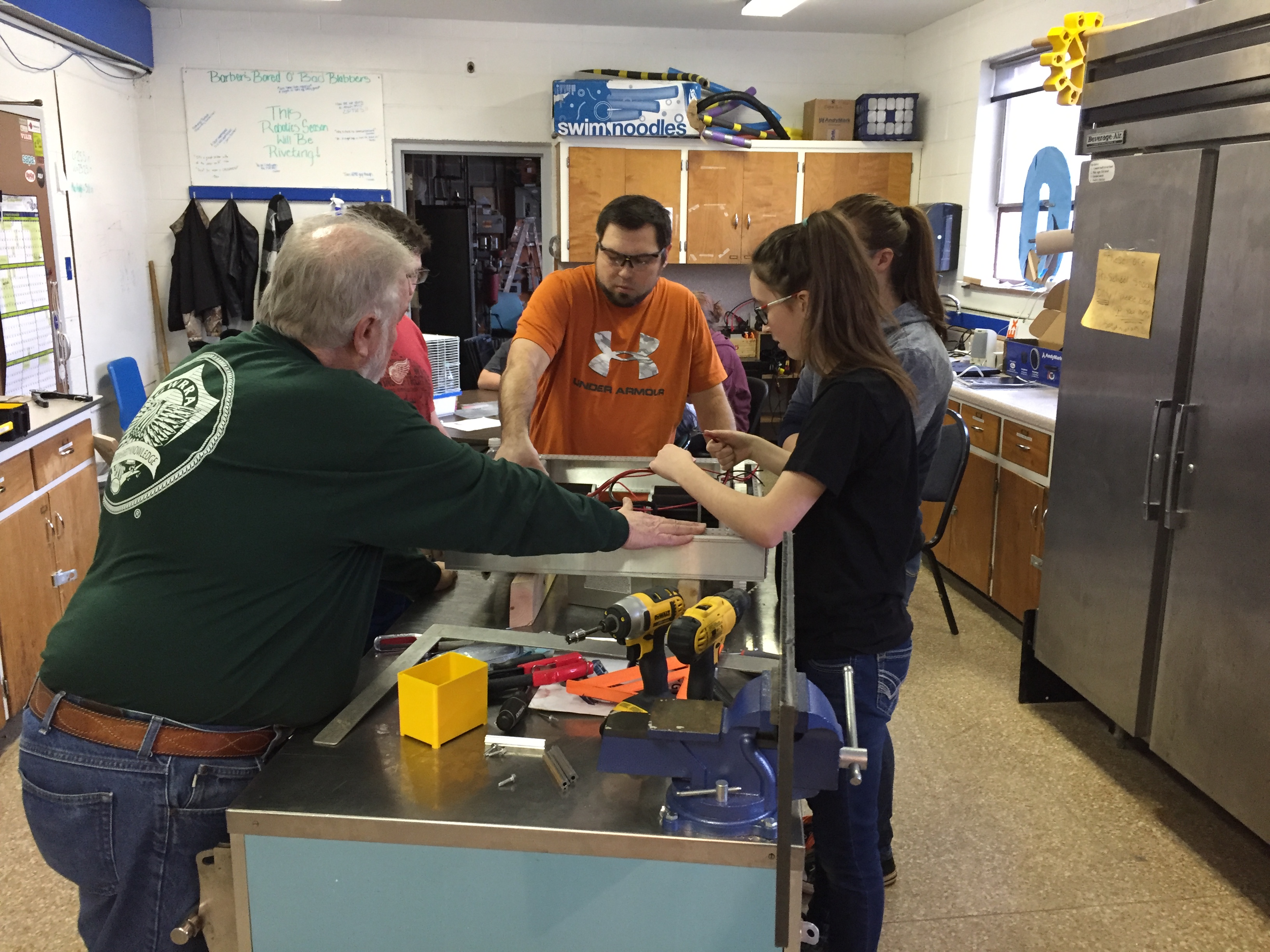 The robotics team competes in F.I.R.S.T. Robotics at the FRC level. It is currently a co-ed team with 18 members. Though we are a fairly new team, we have had great success; our team won the Rookie All Star Award in its first year, and has also competed at the state level. In the off-season, we travel to fairs and parades to show off our robot in hopes to gain interest in S.T.E.M. for all age levels. Overall, the team works to engage students in S.T.E.M. like challenges. Students, with the help of parent and teacher mentors, must put together a business plan, acquire funding through local sponsors, design a robot using CAD software, fabricate parts and assemble and program a working robot in just a few weeks. They then compete with their robot against 40 or more teams in friendly competition. Robotics is not like other sports or clubs; it has a place for all types of students and sets them up for success for the future using real-world, hands-on learning. 
National Honor Society: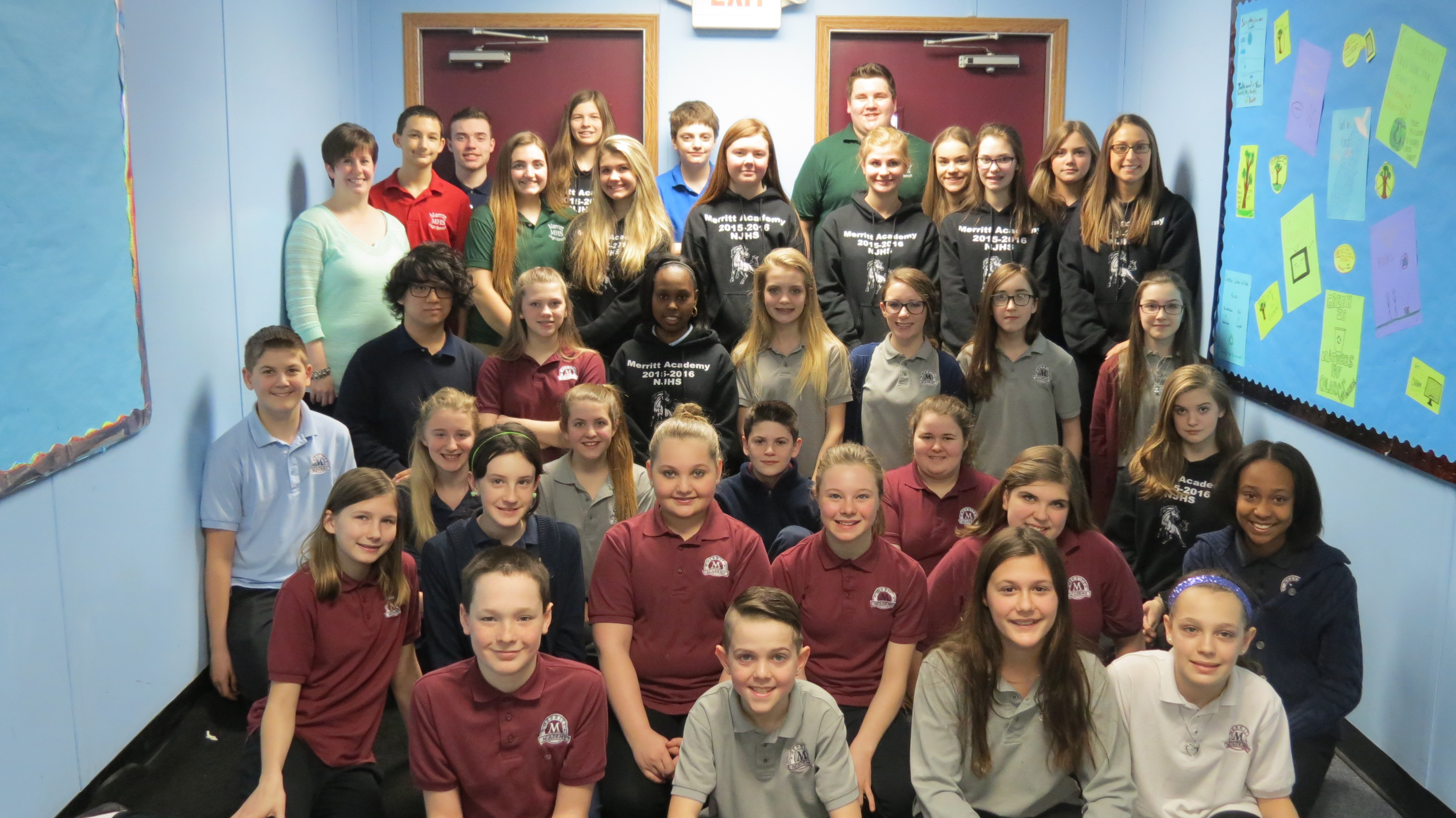 National Honor Society (NHS) is an organization that is offered to students at Merritt Academy that rewards students for their hard work in the areas of scholarship, character, leadership and service.  This organization offers leadership opportunities, service opportunities, and looks great on a resume or college application.  It will also appear on your high school diploma, and you will be recognized at graduation for having been an NHS member!

National Junior Honor Society:
National Junior Honor's Society (NJHS) is the nation's premier organization established to recognize and involve outstanding middle grade students. Membership in this elite group honors students who have demonstrated excellence in areas of Scholarship, Leadership, Service, Character and Citizenship. Membership not only recognizes incredible student accomplishments, but also challenges young scholars to develop further through active involvement in school and local activities, as well as offering ample community service opportunities thereby allowing students to give back to the community. 
Ecology Club:
The Merritt Academy Ecology Club works to help our school become a certified Macomb County Green School. The club is made up of high school students who have helped set up recycling programs within our school. Last year we purchased water bottle recycling bins and it has been a HUGE success.  This year we will be focusing on recycling markers back to Crayola to help reduce plastic waste. We also plan to plants more flowers this spring in front of the school sign.  
Visit our website at:  http://merrittacademyecologyclub.weebly.com/
Student Council:
The 3-5 Grade Student Council is our students' first opportunity to be involved in democracy. Each classroom votes for a classroom representative at the beginning of the year. The chosen representatives meet during occasional recesses throughout the year to help plan and carry out activities and projects for the elementary students. These representatives bring and share the ideas from their classmates, and report back to their classrooms about items discussed. This group gives each elementary student a voice in elementary activities. 
The 6-8 Student council is a peer elected group of middle school students.  These students represent their classmates in making decisions that will affect the middle school.  Representatives help plan dances, pep assemblies, incentives, and other activities.  Overall these students work to represent the needs and wants of their class.  Student council members are an important part of the middle school team and help to make middle school a positive experience.
Merritt Mentors:
Elementary Merritt Mentors (grades 3-5):
The Merritt Mentor Program provides a friend and role model to those students that need it. Some of the students may include those with special needs. Mentors assist students that may have a hard time making friends, organizing their materials in their classroom, transitioning to specials, and those that may have low self-esteem. Mentors are students that are not only role models academically, but those that also exhibit all of the Merritt character traits (sharing, goodness, consideration, cooperation, commitment, etc.). Some of their responsibilities include greeting their new friend in the morning, assisting him/her with routine tasks, and spending lunch and recess together one to two times per week. Merritt Mentors learn important leadership skills, develop some unique and valuable friendships, increase communication skills, and have a better understanding of others.